RefComp SW semi-closed screw refrigeration compressor SW3H and SW3L are 28 models, with displacement of 118~700m3/h (@50hz) and power range of 30HP~240HP.
SW3H, SW3L respectively applicable to the field of high temperature and low temperature refrigeration, the minimum can be applied to - 50 ℃ low temperature conditions.
It is applicable to various kinds of fluorine refrigerant such as R22, R507A and R404A.
Product features
1.Adopts RefComp to design non-symmetric screw rotor tooth profile, in 5/6 form, with good lubrication, perfect meshing between teeth, and smooth and quiet compressor operation;
2.Machine size small, set filter.Globe valve, temperature sensor and body in one, optimized design, occupied small space;
3.Motor protection module, motor temperature too high, reverse and lack of phase protection;
4.Operating information tracking, real-time feedback motor and system operating state;
5.Multiple bearings are combined and matched to avoid rotor axial/radial wear, high load and low noise.
6.Embedded suction filter.
7.According to the full load or partial load condition, control electromagnetic valve has level or non-level energy regulation;
8.Special structural design and spatial layout of the motor, which is effectively cooled by the overcurrent refrigerant gas from the suction stop valve to the suction side of the screw rod;
9.Low suction/exhaust valve can be 360 ° rotation, installation is simple and flexible.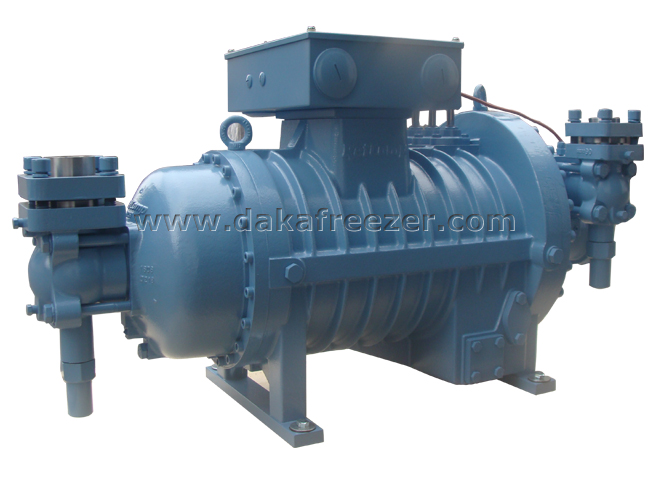 Technical Data

For more details,please contact us at +86 20-81778146 or email to daka@dakafreezer.com